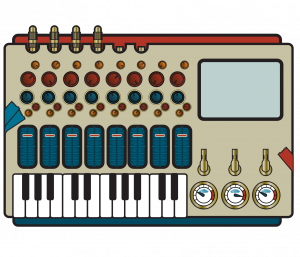 Come to the studio and we can work together on the arrangement and orchestration of your songs so that they are fully prepared for recording.
If you need any help or advice on the songs you are working on we are more than happy to help.
Whether you have a song idea, a song that is just guitar and vocal and you want to add some extra instrumentation, or you have a full song that just needs that little something extra, we can work together to make your song the best it can be.
We can work together and if desired there are a stable of session musicians and songwriters who can become involved and offer their expert advice.
Once your song is fully written and arranged we can organise exactly what musicians and instruments are required for the recording to make the very best of your material.
You may already have a fully formed and arranged song and have a band or a group of musicians ready, this works too, of course.
---
"Gyp is an absolute legend! I went in scared stiff and nervous as hell, I was completely out of my comfort zone playing my own stuff to another person for the first time ever! Gyp totally put me at ease straight away. He explained the process from start to finish, talked me through how things worked and what he was doing at every stage. He was patient and encouraging and managed to get what was in my head onto a record! His enthusiasm for what he does is infectious and it was a fantastic and fun experience and I will definitely be back again. It has boosted my confidence and helped me believe in myself more and inspired me to keep doing it and improve! Thank you so much Gyp, it was an absolute pleasure working with you!"
Zoe Bennett (Solo Artist)
"Gyp is a very thorough and thoughtful sound engineer. In my experiences in working with him, I was amazed at the attention to detail. One great aspect of working with Gyp is that no idea is a bad idea. He is always up for trying a different dynamic in a song, or a different instrument and having a general play around with songs. He remains patient throughout, even if a particular idea doesn't quite work or doesn't sound quite right. All in all, my experiences with Gyp have been excellent and I would advise anyone who was thinking of recording a single or an album, or even just turning an idea into something more than words on a piece of paper to give Gyp a call and arrange a few sessions."
Danny Foulis (The Tides)
"I had a brilliant time recording four original tracks at Ballagroove. I went in with the basic acoustic tracks and Gyp helped me bring them to life and turn them into full-band tracks that are professional release quality. Gyp has a great ear for what will work for each track as well as his brilliant recording, mixing and mastering skills. In addition he was also able to write parts and play additional instruments for me to help expand the songs. Highly recommended for any project big or small."
Adam Paul Jon Melvin (Solo Artist)
"Gypo's approach to recording was systematic, logical and he was always happy to explain and make the right suggestions without being patronising or controlling. He immediately understood the band ethos and style and truly mentored us through a challenging process. His expansive knowledge of music, production and recording truly helped bring the best out of us and I personally really loved learning from him, if he got fed up of my constant stream of questions he never showed it!
Gypo helped us add an extra creative 'spice' to our songs that helped them really come to life"
Ian Astill (Final Cut)